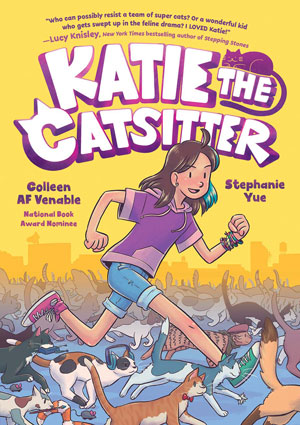 Katie the Catsitter
Book 1 of 5 (See Book 2)
by Colleen AF Venable illustrated by Stephanie Yue
Random House Books for Young Readers, January 2021
Calling all Raina Telgemeier fans! Introducing an irresistible new middle-grade graphic novel series about growing up, friendship, heroes, and cats (lots of cats!)—perfect for fans of Guts, Awkward and Real Friends (not to mention anyone who loves cats!)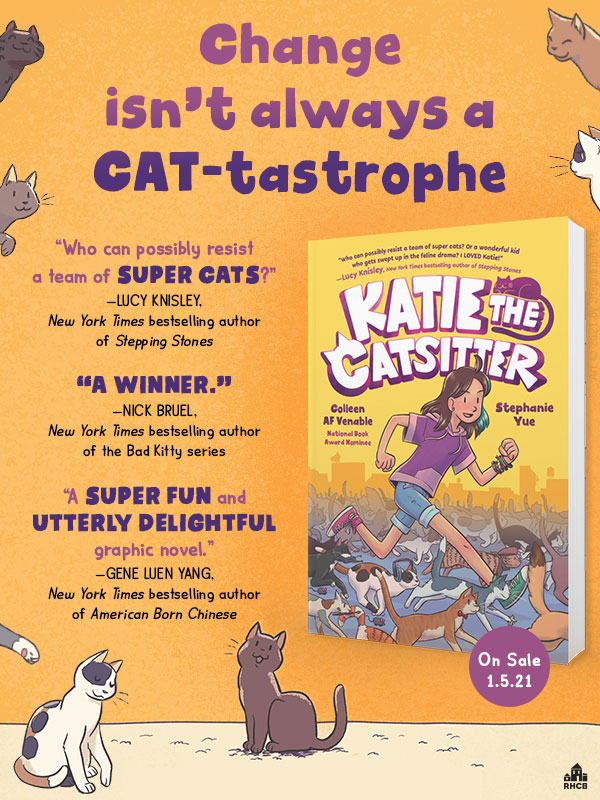 Order your copy below or directly through Penguin Random House!
Katie is dreading the boring summer ahead while her best friends are all away at camp–something that's way out of Katie and her mom's budget, UNLESS Katie can figure out a way earn the money for camp herself. But when Katie gets a job catsitting for her mysterious upstairs neighbor, life get interesting. First, Madeline has 217 cats (!) and they're not exactly…normal cats. Also, why is Madeline always out EXACTLY when the city's most notorious villain commits crimes?! Is it possible that Katie's upstairs neighbor is really a super villain? Can Katie wrangle a whole lot of wayward cats, save a best friendship (why is Beth barely writing back? And who's this boy she keeps talking about?!), AND crack the biggest story in the city's history? Some heroes have capes…Katie has cats!
---
"Neko Atsume meets The Tick in this laugh-out-loud funny, well-paced series starter from the creators of the Guinea Pig, Pet Shop Private Eye series. Katie Spera, a preteen white New Yorker with a teal streak in her hair, longs to attend summer camp with her friends. Her single mother can't afford it, though, so Katie takes a job cat-sitting for Madeline Lang, a stylish Black woman who lives in their building. If $30 an hour seems like an excellent rate, Katie is surprised to learn that Ms. Lang has 217 cats. They're 'evil'—tearing the place apart every night, ordering pizzas, and stealing furniture—and they're capable: each has a specialty, among them computer hacking, lock picking, soap opera expertise, and talent scouting. Meanwhile, as 'supervillain' Mousetress strikes city businesses, the city pins its hopes on self-absorbed superhero Eastern Screech. Katie starts to suspect that Ms. Lang may be Mousetress, and realizes that her deeds have a specific target. Venable develops her themes—appearances can be deceiving, no one is all good or bad—while opening the door for further developments down the line. Yue's expressive cartoons complement this enchanting story, the first in a series with a promising cast of characters—feline and otherwise. Ages 8–12. (Jan.)" —Publishers Weekly
See what The Hollywood Reporter has to say about Katie!