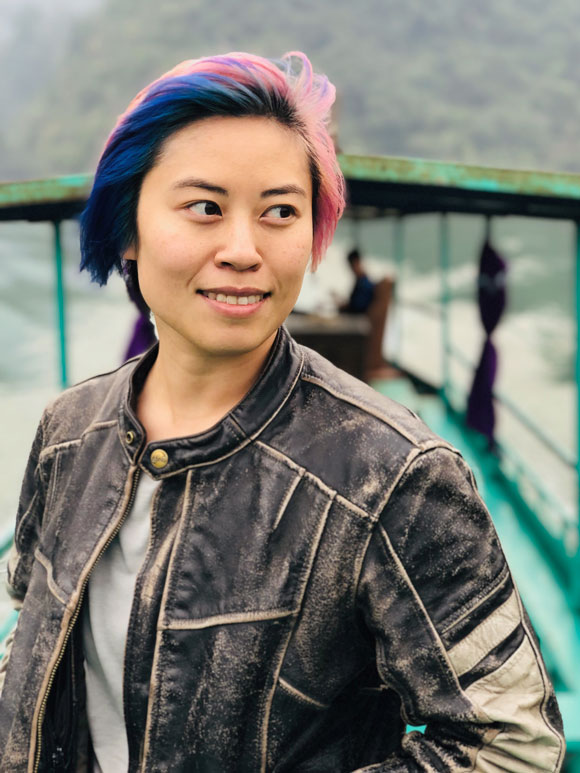 About Stephanie
Hi, I'm Stephanie Yue, and I ride motorbikes and draw things. I grew up in Atlanta, Beijing, and Hong Kong, and studied illustration in New York City. I got my start working in game design and animation studios while publishing my own mini-comics. I've been working as a freelancer since 2008, taking on everything from comics lettering to sketch cards to coloring to website design. In 2010, I signed on with Barry Goldblatt Literary and I've been illustrating graphic novels, picture books, and chapter books for kids. You may even find my work in issues of SpongeBob Comics!
I'm a lifelong martial artist, extended overland scooterist, and itinerant blogger. I like riding two-wheeled things, eating and drinking all the things, and climbing things that probably weren't meant for climbing.
In 2014, I took off on my Vespa and made a drawing for every day I was on the road. In 2020, I bought a used high-roof cargo van and spent the next year and half converting it myself into a mobile illustration studio. I currently live and work from my van and motorcycle full-time! Check it out on Instagram @thebebopvan.
You can email me at quezzie@gmail.com, follow my Vespa travels at 250Superhero.com, and maybe even buy me a Ko-fi. Please contact Barry Goldblatt Literary for professional inquiries.
Published Work
Katie the Catsitter Book 3: Secrets and Sidekicks Random House Graphic (May 2023)
Katie the Catsitter Book 2: Best Friends for Never Random House Graphic (February 2022)
Katie the Catsitter Random House Graphic (January 2021)
Good Night, Bunny Orchard Books (January 2018)
Such A Little Mouse Orchard Books (March 2015)
Mouse Mission Hyperion (October 2015)
Mousemobile Hyperion (October 2013)
SpongeBob Comics, Issues 34, 44, 48, 49, 54, 76
Going, Going, Dragon! (Guinea Pig, Pet Shop Private Eye) Lerner/Graphic Universe (August 2013)
Raining Cats and Detectives (Guinea Pig, Pet Shop Private Eye) Lerner/Graphic Universe (August 2012)
Mousenet Hyperion (November 2011)
Nursery Rhyme Comics First Second (October 2011)
Fish You Were Here (Guinea Pig, Pet Shop Private Eye) Lerner/Graphic Universe (September 2011)
The Ferret's a Foot (Guinea Pig, Pet Shop Private Eye) Lerner/Graphic Universe (March 2011)
And Then There Were Gnomes (Guinea Pig, Pet Shop Private Eye) Lerner/Graphic Universe (August 2010)
Hamster and Cheese (Guinea Pig, Pet Shop Private Eye) Lerner/Graphic Universe (April 2010)
Smile Scholastic/Graphix (February 2010)
Clients
Random House Graphic
Lerner Graphic Universe
Scholastic Orchard Books
Disney Hyperion
Bongo Comics and United Plankton Pictures
Nickelodeon Magazine
First Second Books
Scholastic Graphix
Topps Card Company
Digital Manga Publishing