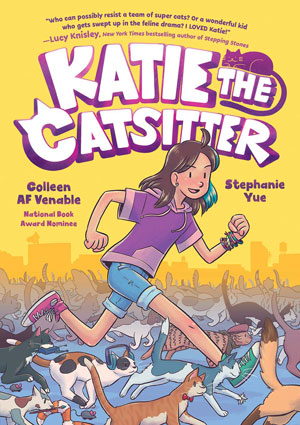 Katie the Catsitter
...coming out Jan 5, 2021!!
by Colleen AF Venable illustrated by Stephanie Yue
Random House Books for Young Readers, January 2021
Pre-order your copy below or directly through Penguin Random House!
Calling all Raina Telgemeier fans! Introducing an irresistible new middle-grade graphic novel series about growing up, friendship, heroes, and cats (lots of cats!)—perfect for fans of Guts, Awkward and Real Friends (not to mention anyone who loves cats!)
Katie is dreading the boring summer ahead while her best friends are all away at camp–something that's way out of Katie and her mom's budget, UNLESS Katie can figure out a way earn the money for camp herself. But when Katie gets a job catsitting for her mysterious upstairs neighbor, life get interesting. First, Madeline has 217 cats (!) and they're not exactly&ellip;normal cats. Also, why is Madeline always out EXACTLY when the city's most notorious villain commits crimes?! Is it possible that Katie's upstairs neighbor is really a super villain? Can Katie wrangle a whole lot of wayward cats, save a best friendship (why is Beth barely writing back? And who's this boy she keeps talking about?!), AND crack the biggest story in the city's history? Some heroes have capes…Katie has cats!
"Who can possibly resist a team of super cats? Or a wonderful kid who gets swept up in the feline drama? I loved Katie!" –Lucy Knisley, New York Times Bestselling Author of Stepping Stones
"Super fun and utterly delightful!" –Gene Luen Yang, New York Times Bestselling Author of American Born Chinese
"A winner!" –Nick Bruel, New York Times Bestselling Author of the Bad Kitty series